SVM Students and Alumni Snip Away at Cat Overpopulation

Within 90 seconds, Adam Bauknecht DVM'09 can neuter a cat. A routine spay takes him ten minutes or less.
Bauknecht estimates that he's so far performed at least 10,000 of these procedures and he has no plans of letting up. Given that a mature female cat can breed two to three times per year, delivering an average of four kittens with each litter, he has to work quickly to keep pace.
"We can't shelter our way out of pet overpopulation; we're going to solve this problem by getting animals spayed or neutered, so that's a high priority for me," says Bauknecht, who serves as medical director for Madison Cat Project, a nonprofit organization that provides cat adoptions and spay and neuter services.
Since October, the group has partnered with the UW School of Veterinary Medicine (SVM) to host monthly high-volume spay and neuter clinics at the school. About 50 veterinary medical and veterinary technician students, joined by more than a dozen veterinarians, veterinary technicians, and other volunteers, work feverishly to spay or neuter about 60 cats over a span of eight hours on one Saturday each month.
According to Robb Hardie, clinical professor of small animal general surgery and associate dean for professional programs at the SVM, the collaboration has created new opportunities for veterinary medical students to gain practical experience that complements skills learned in the classroom. "Volunteering with Madison Cat Project clinics provides students with valuable hands-on experience that is easy to access and happens on a regular basis," he says.
The response from students has been so enthusiastic that there is at times a waiting list to assist. This eagerness delights Bauknecht who, as an SVM student, volunteered at earlier Madison Cat Project clinics held at other locations.
"Thirteen years ago, when I started helping with this, I was begging classmates of mine to come," he says. "That we have so much interest in this that there's now some competition for it is really cool."
The monthly clinics are a bustle of activity, set up across a variety of stations throughout the large lab space used for teaching anatomy and surgery at the SVM. Near the entrance, cats wait in a lineup of cages that are draped in towels and blankets to help keep the felines calm. Next to them, students prepare vaccinations and pre-surgery medications. One stop over, cats lie on tables as students conduct physical exams; give injections of vaccines, dewormer, and pain medication; and prepare the cat's surgical site. Meanwhile, a nearby microwave beeps again and again as tube socks filled with rice are heated to keep cats cozy while they await their procedure.
Spread along the other span of the room, surgeries occur one after another, with about 10 happening at once. Room dividers and signs separate "spay land" from "neuter land." Once a surgery is complete, it's off to the traffic control station, where medicine is given to reverse anesthesia and fluids are administered if needed. From there, cats are placed back into their cages, which have since been cleaned, and then moved to the recovery area, where they're monitored until they head home.
All the while, veterinarians and veterinary technicians drift through the room, supervising, offering guidance and reassurance, and assisting with surgeries.
"We have multiple veterinarians in the area where the neuters are happening and at least one spay table includes a student doing the surgery, with a veterinarian assigned there, talking them through and helping," Bauknecht explains.
According to Colette Manley DVMx'22, "you learn a whole different skill set" working in this type of high-paced, high-volume environment — "how to prioritize things, communicate quickly and efficiently, and do fast work while still doing good work, which is a skill we need to know very well."
Manley is one of several clinic student coordinators who help to recruit and manage volunteers and set up the space each month. They work closely with Karen Hershberger DVM'10, clinic supervisor and an instructor at the SVM, who has played a role in Madison Cat Project clinics since her time as a student.
"I feel strongly that I can make an impact by teaching as many students as possible that they can have a spay/neuter clinic to help community cats when they are out in practice," says clinic supervisor and instructor Karen Hershberger DVM'10.
Hershberger says the additional surgical experience gained at the clinics and the repetition of performing hands-on skills on many cats helps students achieve comfort and proficiency. And, she notes, the events provide a refreshing break from coursework.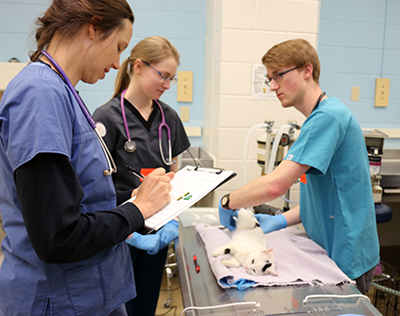 "The first two years of veterinary medical school can seem very theoretical to students," she says. "These clinics serve as a reminder of why many of them choose to go to vet school: to help animals. We make a difference to the health of each of these cats."
Students must work their way up to performing surgery at the monthly clinics. After helping with other duties at three clinics (and completing the male reproduction portion of the Fundamental Principles of Veterinary Anatomy course), a student is deemed "neuter-eligible." Third-year students who have completed a spay operation as part of their junior surgery class can also conduct spays.
The monthly clinics span several stations. Here, a physical exam is performed before surgery.At a recent clinic in March, seven students performed their first-ever neuters. Thinking back on his own growth in this area, Bauknecht now enjoys the chance to "live vicariously" through students.
"Watching a vet student do a neuter for the first time, seeing them get nervous and then get a big grin on their face, is really rewarding," he says. "I love working with students as they develop their skills and confidence through surgery."
A majority of the patients at the monthly spay/neuter clinics come from outdoor cat colonies. Following the Trap-Neuter-Return method advocated by animal sheltering professionals, the cats are humanely trapped by their caretakers, transported to the clinic to be spayed or neutered and vaccinated, and then returned. These interventions stop reproduction, helping to control and, over time, reduce the colony's population.
During surgery, the top tip of each cat's left ear is snipped (known as ear-tipping), a painless, widely adopted mark that signals to caretakers or veterinarians that the cat has been spayed or neutered.
Linda Weynand, a Madison Cat Project volunteer who assists clinic clients with cat check-in and pickup, applauds the dedication of those who care for these cats and have them altered. "The owners have to feed the cats, trap them, and watch them through recovery," she says. "That's a commitment. There are a lot of good people out there."
As Weynand emails with clients after the events, they often share unsolicited appreciation. Among some of the recent feedback: "This is an amazing program to help farm people help barn cats;" "I feel so much better now;" and "I'm in a much better place this spring than I was a year ago."
At the time of the clinics' origins over a decade ago, most clients came from Madison or Dane County. Today, a majority are from outside of Dane County and as far as several hours away. Organizers see this as an indication that they've helped to control the local cat population and can now serve outlying areas, where access to care for community cats may be more limited.
"The local population that needs care is now not so overwhelming that we and other groups are starting to look elsewhere to see where we can help," says Bauknecht. In several instances, as veterinary clinics and humane organizations in the region have launched their own spay and neuter events, Bauknecht has helped by sharing advice or surgical equipment. "I don't want clients to have to drive three hours to come to our place; I want them to be able to go somewhere locally," he says.
Hershberger hopes that students' involvement with the clinics opens their eyes to the role they can play in population management.
"As more veterinarians are comfortable working with community cats, these cats, which otherwise would not receive veterinary medical care, will be sterilized and hopefully decrease cat overpopulation," she says. "I feel strongly that I can make an impact by teaching as many students as possible that they can have a spay/neuter clinic to help community cats when they are out in practice."
Even after performing thousands of spay and neuter surgeries, Bauknecht hasn't grown tired of the procedure. "Sometimes I marvel at how do I do this same surgery over and over and not get bored of it?" he says. "To me that's a good indicator that I'm in the right place."
Bauknecht's passion for shelter medicine dates back to his interest in becoming a veterinarian. Before entering the SVM's Class of 2009, he worked at several animal shelters and volunteered with Madison Cat Project, then known as Dane County Friends of Ferals (the group was founded in 2000 as a feral cat advocacy organization). He continued to volunteer with the organization throughout his four years at the SVM. When a veterinarian position opened with the group in 2010, he pounced.
Through their shelter facility and a vast foster network, Madison Cat Project works to find homes for cats who might otherwise be euthanized due to behavioral, medical, or other issues. The group has grown from about 200-300 annual adoptions to now adopting out more than 700 cats each year. Bauknecht provides the medical care for all of these animals. He also conducts spay and neuter surgeries for public clients one day each week (in addition to the monthly clinics) and consults with shelters.
"The lion's share of our cats are transferred from other shelters — cats that they feel are not able to be placed through their shelter because of some temperament issue or, occasionally, a medical problem that is more than they're able to deal with," he says. "Our shelter is smaller and quieter and we don't have dogs, so that gives the cats a chance to settle in."
The shelter's well room, where up to 12 cats reside once they are confirmed to be healthy, is a feline dream. Cats roam free in the space and choose from whatever housing best fits their taste — plastic kennels and cardboard boxes outfitted with fluffy towels and fleece blankets, elevated beds, cat condos, or standard cages with pass-through openings. A variety of toys and scratch pads provide entertainment, while public radio — and the occasional hiss or growl shared between cats — hums in the background.
The chance to be a champion for cats in need inspires Bauknecht's work. "Knowing that many of the animals that come here, if we weren't here for them they wouldn't get anything — that's a big part of what drives me," he says.
Bauknecht completed a graduate certificate in shelter medicine in 2016 and has been encouraged by veterinary medical students' increasing interest in the field. A 2017 American Veterinary Medical Association survey of new students showed that shelter medicine was their second-biggest interest, behind general practice. This excitement is evident at the monthly Madison Cat Project clinics at the SVM; in the months since the school began hosting the events, participation from veterinary medical students has doubled.
"It's great to see that passion," Bauknecht says.
Meghan Lepisto
Just the Fix
By Heidi Clausen. Originally published by The Country Today and reprinted with permission.
The violent tornado that ravaged a trailer park in Chetek, Wisconsin, in 2017 brought a growing problem into sharp focus for veterinarian Angie Ruppel DVM'03.
"People in the trailer court were [previously] feeding the cats," she said. "After the tornado came through and homes were gone, there wasn't anybody left to feed the cats; they were homeless."
At the request of a colleague, Ruppel, who works three days a week at the Northern Lakes Veterinary Clinic in Cumberland, sprang into action, providing low-cost spay and neuter services for displaced cats.
Ruppel has seen firsthand in her practice the ramifications of an uncontrolled pet population. Feeling like she was providing a valuable service for the community by preventing these cats from reproducing, Ruppel decided she wanted to offer it on a more regular basis and more widely. She invested $1,000 in a used truck and bought a pull-behind trailer and an old, insulated ice shack. In total, it cost her $30,000 to set up a basic, on-the-go veterinary surgical suite.
Since offering her first mobile clinic last March, demand has increased. Ruppel operates Purple Cat on her two days off from the vet clinic each week. She brings her trailer to several sites throughout northwest Wisconsin, primarily local humane societies between Eau Claire and Spooner. Occasionally, she sets up a clinic at farms, where cats often reproduce rapidly, reaching into the dozens in a short period.
"It's a very fulfilling job in so many ways," she said. "People are so thankful. That makes it worth it."
Purple Cat is geared toward outdoor, farm, feral, stray, and colony cats, along with cat owners who would not otherwise be able to afford to have their animals sterilized at a vet clinic.
Groups of 10 to 15 cats are rotated through the trailer at a time. A space heater keeps the area warm in the winter, and the walls and floors are easily washable.
Ruppel, who already has sterilized thousands of northwest Wisconsin felines, said her ultimate goal is no more unwanted cats. Some humane societies have already seen the difference Purple Cat has made on the stray cat population, she said, but an even clearer picture should emerge in a couple of years.